Voices for better
We're wholeheartedly passionate about being a voice for a better world for women, children and animals, as well as other less advantaged New Zealanders. Read on to learn about many of the causes and issues we care deeply about.
The Power of Women - Survival and the Sisterhood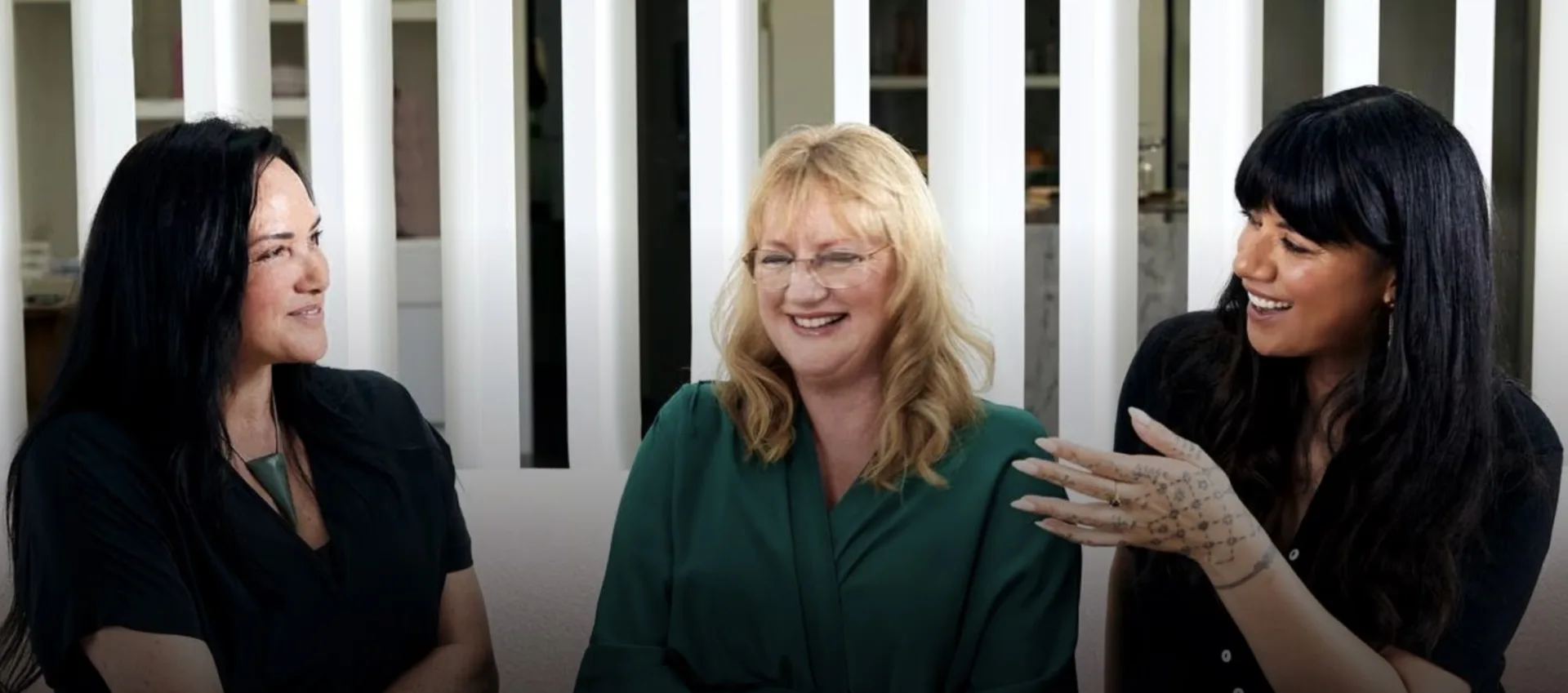 At first glance, they're an unlikely trio, emerging into the spotlight from different backgrounds and pursuing different careers. What binds them together is their mahi in paving the way for wāhine toa following them up the ladder. "All of us are committed to making sure that not just the next generation coming through but all wāhine are supported in any way that we can," says Nathan (Ngāpuhi, Ngāti Hine, Ngāti Maru, Ngāti Hau). "I always lean in to my sisterhood. I call them my unpaid advisory board."

In the first of an occasional "On the Couch With..." series, Gattung, 61, Nathan, 50, and Ladi6, 43, share the challenges they've faced and how the support of other women has been crucial to their success.
Kiri Nathan: Where we came from, it was survival. How do you survive? You got to go to work. You got to earn your money. We were only aware of this one process you went through. I feel like there's a language that's spoken in the higher socioeconomic areas that we didn't even know about when we were growing up, eh, Theresa?
Theresa Gattung: I'm from a very working-class background, but in my day, it didn't cost you to get to university, so it was easy to go to Waikato and do a business degree. There weren't many women in my year. I was easily the stroppiest. But you pick it up by exposure. And both my parents were small business entrepreneurs, so I came from that environment where it's okay, to take a risk. That's a huge thing for a woman.
KN: When I started the business, I just didn't know where to start. I didn't know who to contact within my industry to help with operations and manufacturing. I didn't know anything about funding or investment. I didn't know how to speak to government agencies whose job it was to try to support people like me. And once I started to engage in these relationships and fill out application forms, there were certain words, phrases and themes you had to include to give you more traction. And I feel like not enough people know about that.
TG: Is that why you joined Co.OfWomen, to get exposure to women you thought might have that knowledge?
KN: Absolutely. Because at that time, nobody would stock us. We just had closed doors everywhere in the fashion industry. Prior to us creating a commercial high-end [Māori] fashion label, there'd never been one. And so the industry was like, what is this? This doesn't belong here, this doesn't fit our mould. And she doesn't conform to the ways that we do things. The model wasn't built for Māori or Pasifika, it was built for Pākehā. That's just how it was and that was one of the massive barriers and challenges for me.
NZ Herald: Ladi, you've always earned your living from making music — do you think of yourself as a businesswoman?
Ladi6: Yeah, I think I have to. It's literally been the only way I've been able to raise my family. It's interesting, listening to what Kiri says, because my mother was a social entrepreneur in my childhood. She started the local youth centre and the first Pacific Island Women's Refuge in Christchurch. Because she was an activist and very suspicious of institutions across the board, be they religious or educational, she never had the idea that we should go to uni and follow that path. She and Dad were more like, learn from life and you'll figure it out.
KN: The times that I've heard you speak or read something about you, Ladi, you've always spoken strongly and had a dignity about you. But you also speak about vulnerability and I really admire that in people when they're tough enough to talk about the hard stuff openly.
L6: I always worry I come across as depressing. No, honestly! But it's hard for me not to just say the realness. And the realness is always that it's actually tough.
NZH: How important has the sisterhood been in your lives and what does it mean to you all personally?
L6: It's probably the biggest influence that I've had. I come from a matriarchal line and I feel like the sisterhood is something that's embedded in me as a natural way of being. My interactions with women are always like a mirroring — seeing a reflection of yourself. Sheelahroc was one of New Zealand's first hip-hop crews that was all women and we purposely did it like that because we wanted to say that women are strength. We also felt that women were the backbones of our personal lives. I still feel like that's true, even in my own household.
TG: My belief system is that misogyny is still alive and kicking. I was doing a podcast the other day with a very well-known male interviewer. At the end, he asked, hesitantly, "Would you describe yourself as a feminist?" I'm like, have you not listened to anything I've said in the last hour? Everything I do is about advancing and supporting women because if women don't do that for each other, we can't expect men to come on board as well.
KN: I have one sibling, Tanya, who's my little sister. We had a fairly challenging childhood and upbringing. She's six years younger than me so after our parents separated, I kind of stepped into that mum role for her. When she got married, I gave her away. And so, yeah, a very close relationship. But the relationship between women of all walks of life, all ages, all cultures when they connect and come together to support each other — that's my interpretation of sisterhood.
L6: My mother was my biggest supporter and my biggest ally, and I reciprocated that when she got sick and passed away. She lived in my house. I know it's my responsibility now to try to lift up other women. When I was looking for dancers to join me on stage, I wanted to engage sisters who looked like me and create a space for them, because opportunities to be where I am weren't given to people like me. I had to take them.
KN: For me, it's also about how it's changed through the years. Every single decade, you evolve, you change, you learn and you make choices. And I feel like your energy changes. At 50, there's been more change than ever before. Menopause has come in, our children are older. I honestly feel like I have less energy and capacity, and therefore I'm very protective of that energy and who comes into this space. You need your tribe. And my particular chosen tribe is 80 per cent wāhine. I've got a lot of best friends who are tāne and I love those friendships, but they are very different to my sisterhood. They're the ones who would bury bodies for me.
NZH: How did you both perceive Theresa before you met her — did you think, what would this wealthy Pākehā businesswoman know about my life, my people, my culture or my world?
L6: Oh, I definitely did. I thought we'd have nothing in common. That she'd be way so smart and I was going to sound like a dongy. I was really worried. And then I met her and her sister — having Angela there broke the ice for me. The way they engaged, I was like, oh, sweet, I know that relationship. We sat next to each other [at the arts laureate lunch] and gasbagged the whole time.
TG: I was a bit worried that this piece could paint me as a white saviour, because I am definitely not. I do things with other women, not for other women, and I'm very down to earth, but I have been in situations where a very well-intentioned Pākehā woman has stood up and said, 'How can we get more Māori woman as part of this?" And a Māori woman has replied with great mana and great dignity, "You're asking the wrong question. It's how do we walk together?" So that's what I do.
Kiri, I remember soon after you got involved in SHEeo [now Coralus] and you told me you realised it was authentic when no one made cultural asks of you. We didn't say, "Please do the karakia."
L6: I've totally had that, been treated like a tokenistic Maori. And I'm Samoan!
KN: I've been on the end of that many, many times. But no, I never, ever judge a person until I get to know them. A lot of my early mentors were Pākehā women in business, who were very successful. I've been in opulence in my life and I've been in absolute poverty. Those things don't change the way I feel about a person. It's their manaaki.
So I always give people the benefit of doubt and as you get older, you get a lot faster at reading people. You can work out in one sentence or one greeting or just by observing whether you're going to let that person into your little sphere or you need to protect yourself and keep them on the outer.
TG: I'm the eldest of four girls and I've felt well supported by my sisters all my life. Then there's exactly what Kiri said, the sisters of the heart. You do life with a partner, but you also do life with your closest girlfriends as well. And then there's the sisterhood as a political movement, which is how I spend my time and money. I never realised it was wealthy women, often widows or heiress's daughters, who funded the women's right to vote in the US.
I invest pretty much only in female-led businesses or in funds that have woman founders. During lockdown, I began thinking about how I could make a big difference in this way and approached the University of Auckland to set up the Centre for Women Entrepreneurship. Only a few per cent of capital worldwide goes to women.
KN: Theresa and I had met at a few events and then she called and said, "Can you come over? I want to talk with you about a few things and I want to order some clothes." We sat down and oh, my God, it was so hilarious because, Theresa, you just speak to people like you've been their mate forever. I spent half the day cracking up.
TG: When I won an award at the Westpac Women of Influence Awards [in 2018], all the Māori women on stage who were honoured that night were wearing Kiri Nathan gowns. When she started the Kāhui Collective [a community to support Māori fashion designers], I thought that was so phenomenal because I was brought up to give back as well as to make my own way in the world. And so we [the Gattung Foundation] made a small contribution to setting up the wonderful… what do you call it?
KN: Te Āhuru Mōwai is the name of our whare [a community hub in Glen Innes], which means safe haven or shelter.
NZH: You've been involved with community initiatives too, Ladi, with the TV series Songs From the Inside and an anti-smoking campaign.
L6: That always gets brought up in every single interview! I never thought of it as such a big thing.
KN: Mine's [meeting] Beyonce...
L6: It was really important to me at the time because when I think about my mum, it's the smell of cigarettes and perfume. That's home to me. But I always knew it was bad for her health and I wanted her to live, so I took on that campaign.
TG: You should talk about the counselling study you're doing. Do you feel comfortable talking about that? Whole new things happen in the space of bringing two things together that didn't used to exist, which is what you're doing too, Kiri.
L6: I always wanted to be a counselling psychologist. I tried to do it back in 2016 and then I had to tour around the world. Then Covid happened and I jumped into it. I'm doing my second year now. I've had burnout a couple of times in the past, such bad anxiety, and I didn't know what it was. Especially in my industry, it looks very glamorous, but touring is hard.
NZH: Have you decided what to do with the arts laureate award?
L6: I've never had an opportunity to properly save any money so I invested it all into my house fund, so hopefully that will provide my mokopuna with something if I pass away. And that's just like being real. Every musician friend of mine who's got a house had help from their parents. People who come from where me and my husband come from, we don't have that luxury. That's okay. We may not have the million-dollar house, but we've had the million-dollar lifestyle. It's the price you pay to do the thing you really want to do. [A new Ladi6 record is due for release early next year].
KN: Success to me is having happy kids, having your hauora intact. And doing something first that's never been done before. I love all of that. I think it's important to say to young people to never underestimate themselves, especially if they've come from communities like ours, growing up. It's almost ingrained that you think, "I don't know if I can do that." Never underestimate your idea, your product, your skill. Whatever it is, go for it.
Credit: Theresa Gattung and Kiri Nathan are both wearing Kiri Nathan dresses.
https://www.nzherald.co.nz/lifestyle/survival-and-the-sisterhood-theresa-gattung-kiri-nathan-and-ladi6/WOGPUPPZWBA2ZGK7YX76Y7FF4Y/